Bruce Selyem
An artist's dream is to have his name thought of synonymously with the subject of his life's passion. In 1985 Bruce Selyem stopped to photograph a spectacular stormy sunset with a "building" in the foreground, a building which had little meaning for the Montana State University photography student. By 1989 when Bruce graduated with a bachelor's degree in photography, he knew the "building" was a grain elevator and began to explore Montana's prairies to capture on film as many as he could find. As he worked his appreciation of the elevator as an object of beauty grew as well as his understanding of the deep cultural significance of this symbol of our agricultural heritage.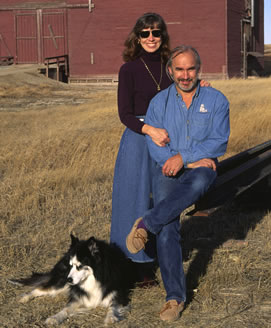 Twenty years later Bruce is recognized as a leader in preserving the history of our vanishing country grain elevators. His photo collection is impressive -- over 80,000 images from more than 5,075 places in 35 states and provinces. His passion and his photos have been published in magazines, newspapers, and books and he has been featured on television and radio in documentaries, news programs, and talk shows. He has been a speaker for the Montana Committee for the Humanities since 1996 and has traveled throughout the Montana presenting his slide documentary, "Landmarks in a Sea of Grass". And he has traveled throughout the states and Canada with a modified version of the same program. Saddened by the disappearance of the elevator from the landscape, in 1995 Bruce Selyem founded the Country Grain Elevator Historical Society to promote the preservation of this uniquely North American "building".

Barbara Krupp Selyem
Moved to Montana in 1998 from Missouri where she worked for 22 years in the grain industry for a company that manufactures grain-handling equipment. She views the elevators from an engineering point of view, how they function and how to solve problems when malfunctions shut an operation down. She too recognizes the loss of this heritage and is committed to documenting the history, but in a different format than Bruce.

While Bruce is photographing, Barbara takes her notepad and pencil and heads for the elevator to gather as much historical information as possible. Sometimes the best information is found at the town's cafés, senior citizens center, city office, library or local museum. Some of this information is used to write a regular feature called Old Time Elevators for Grain Journal, a major grain industry magazine. The article, which features Bruce's photography and Barbara's writing, is one of the publication's most popular.

Through photography and writing, Bruce and Barbara have made a life long commitment to gather history about the country grain elevators and to record this vanishing heritage for future generations.